Box.com
is a cloud file sharing service, which as of 2014, has 27 million users and serves 240,000 businesses, including 99 percent of Fortune 500 companies.
Box for Office
is a free add-in that helps Box.com subscribers open, save and share Box files directly from Word, Excel, and PowerPoint. The addin's Ribbon controls are shown by default inside the built-in Home tab.
As presented in a
previous article
,
any additional controls placed inside the heavily populated built-in Home tab may force Excel's controls to resize. Users will have to adjust to an unfamiliar layout. Additional clicks will be required for navigating overflown controls, so frequently used controls will be harder to reach.
This tutorial explains how to move Box's controls from a Home tab group to its own custom tab using the 'customize Ribbon' Excel option available in Excel 2010 or later. The process is identical for Word and PowerPoint.

Box for Office addin controls shown by default in the Ribbon inside the Home tab - Styles group shown partially collapsed
---
Excel Options / Customize Ribbon tutorial
---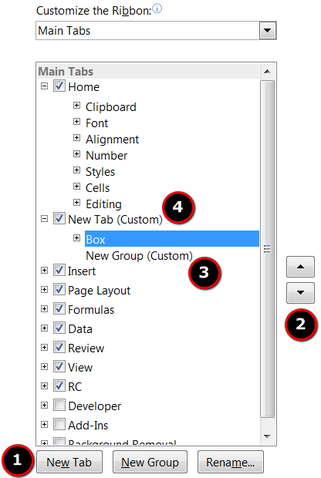 Click the Box label, then New Tab

Click the Down arrow button to move Box inside the 'New Tab (Custom)'
Right click the 'New Group (Custom) and click Remove
Select 'New Tab (Custom)', right click and rename it as Box


Finally, click the Box label and then the down arrow, until the Box tab is moved to a desired position e.g. after the Developer tab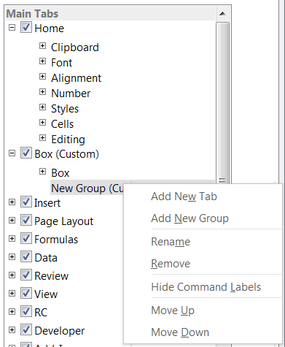 ---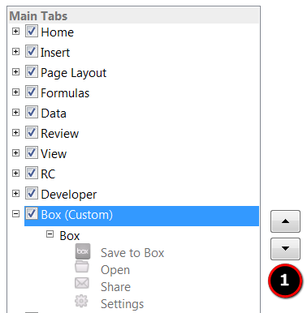 Click Box and then the down arrow until the Box tab is moved to a desired position e.g. after the Developer tab
---