How to convert a digital photo into an Excel spreadsheet!
Cecil, an iconic attraction among visitors to the Hwange National Park in Zimbabwe, was killed by an big game trophy hunter, after being lured out of his protected habitat with a bait at night.

Cecil, a docile lion in his prime, was a participant in a study that Oxford University in United Kingdom was conducting. He had been outfitted with a GPS/Satellite collar, which was recording the lion's habitat range. Wildlife collars are programmed to send an email to researchers, if the animal hasn't moved for several hours, as a mortality alert.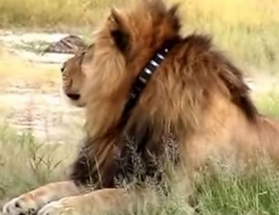 The saddest part of all is that, now that Cecil is dead, the next lion in the hierarchy, will most likely kill all Cecil's cubs, so that he can insert his own genes into the females. This is the natural law in lion society, when a dominant male dies.
As a tribute to Cecil the lion, one of his viral photos has been digitized in Excel using the
mathlayer
library. The background color of each cell has been filled with a pixel color from a photo.

An error may occur when digitizing images, if the workbook contains more than 64K cell formats in Excel 2007 and higher. This would be usually be the case with large images and rich color palettes.
To avoid the '
too many different cell formats
' error, please convert your PNG image with alpha-transparency (32bpp) to an indexed color image without transparency (8 bpp = 256 colors) using Floyd–Steinberg
dithering
and an optimized palette. Most image processing software offer this feature.
Full-color photographs may contain an almost infinite range of color values. Dithering is the most common means of reducing the color range of images down to 256 colors seen in 8-bit images. It is the process of juxtaposing pixels of two colors to create the illusion that a third color is present.
---
---
Besides Africa, lions have inhabited other parts of the world, such as Europe and Asia.
According to reports by Ancient Greek writers such as Herodotus and Aristotle, lions were common in Greece around 480 BC, became endangered in 300 BC, until their extinction in 100 BC. Lions feature heavily in ancient Greek mythology and writings, including the myth of the
Nemean Lion
, which was believed to be a supernatural lion that occupied the sacred town of Nemea in the Peloponnese, Greece. It could not be killed with mortals' weapons, because its golden fur was impervious to attack. Its claws were sharper than mortals' swords and could cut through any armour.
As king of the animal world, lions play an important role in Chinese culture, representing power, prestige, and protection of the environment. In the Buddhist faith, the lion is considered to be a noble, dignified, and divine animal that protects the truth and wards off evil. The earliest lions were made during the Han dynasty, carved from granite and marble or cast in bronze.
---