---
Use of usernames and passwords are the most common way to prove your identity when accessing websites and online services. Therefore, the use of strong and unique passwords is essential in order to protect your identity and assets.

Why Do We Need So Many Passwords?

Password re-use is bad. If you use a single password in every website you visit, a hacker would have to break just one password in order to attack all other sites you are using and eventually will acquire access to your entire digital life. The best practice is to use a different password for each website (or Excel file).
---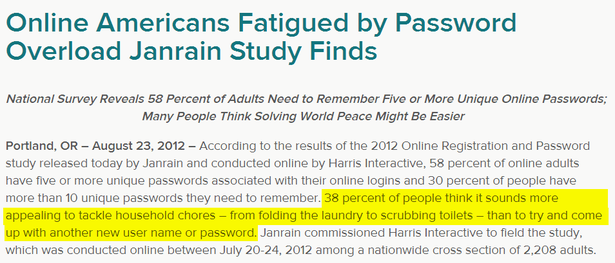 ---
How Can I Manage So Many Passwords?

You are probably already aware that a strong password is made up of a long random string of letters, numbers and characters. Since passwords should not be reused on multiple websites, we are supposed to memorize a large number of passwords that are impossible-to-remember by design!

A low-tech solution to the password list storing problem is paper, because is simple, reliable and everybody knows how to use it. People (or 3-letter agencies, if you are a Snowden supporter) coming in all over the internet cannot get your passwords that are on paper!
---

---

Needless to say that paper has its dangers and a washing machine is one of them. But online threats from strangers are a much bigger concern. Paper cannot be hacked by brute force or dictionary attacks. Technical computer problems cannot suddenly erase the contents from a sheet of paper.

On the contrary, software password managers are vulnerable from such problems, among other issues.

Password List Storing Tips

Obviously, don't leave your password organizer in plain sight, where people can read or copy it. Store it in a secure place and a consider storing a copy in a safe location should the master list be destroyed in a disaster e.g. fire, flooding etc. A fire-proof safe is ideal for storing important documents.

In case of an emergency, your relatives can easily maintain your online accounts on your behalf by reading login credentials from a sheet of paper, than having to figure out how to access your computer and your software password manager.

Make sure the passwords written on paper you carry with you are meaningless and unusable by other people, if revealed e.g. paper log is stolen. Substitute characters in your password with others that you can remember or easily work out.

Password Tips

Never disclose passwords to anyone else. Do not send passwords by email or store them inside files without encryption. Change your passwords as soon as a leak is suspected. But otherwise, changing passwords just doesn't provide an additional security benefit, especially if you are using a unique strong password on every site.
---
---
Printable Password Manager Template
In some cases you may be asked to enter only certain characters of your password for additional security, for example for bank accounts. Characters can be easily counted using our free list worksheet
---

Use this free printable log template to keep track of logins and passwords for your online accounts!
---
Frequently Asked Questions
​

I don't have Excel on the PC I am working now. How can I print the password log organizer?
​
Our printable log tracker is available for download in PDF & XPS formats as well. Please click the download button above.
---

I was careless and lost my Excel passwords. I need to unlock sheets and make changes to critical formulas. Can I remove sheet protection or even recover my passwords?
​
Yes, please use our
FREE add-in
powered by Ribbon Commander.
---
---
Password Security Tips
​

---

Use this free online tool by

Norton Identity Safe

to create secure passwords that are difficult to crack or guess.

---

---

If you use a clipboard manager application, please ensure that any copied passwords are not stored in an unencrypted clipboard history log.
---
Further Reading
---
Statement From Apple About The Nude Photo Theft​
We wanted to provide an update to our investigation into the theft of photos of certain celebrities. When we learned of the theft, we were outraged and immediately mobilized Apple's engineers to discover the source. Our customers' privacy and security are of utmost importance to us. After more than 40 hours of investigation, we have discovered that certain celebrity accounts were compromised by a very targeted attack on user names, passwords and security questions, a practice that has become all too common on the Internet. None of the cases we have investigated has resulted from any breach in any of Apple's systems including iCloud® or Find my iPhone. We are continuing to work with law enforcement to help identify the criminals involved.

To protect against this type of attack, we advise all users to always use a strong password and enable two-step verification. Both of these are addressed on our website at http://support.apple.com/kb/ht4232.

---
List Of Easy-To-Guess Passwords For iCloud

In light of the recent celebrity photo theft from Apple's iCloud (aka Celebgate), here is a list of the 500 most frequently used leaked passwords, which satisfy AppleID password policy: At least one capital letter and one number are used.
The list is shown below in ascending sort order. It was originally published in
GitHub
sorted by frequency of use and allegedly created in 2009 using a hacking tool called iBrute.
Needless to say, that if your iCloud password is appears below, please change it as soon as possible using a
strong
password!
​
| | | | | | | | | | |
| --- | --- | --- | --- | --- | --- | --- | --- | --- | --- |
| 1 | 2 | 3 | 4 | 5 | 6 | 7 | 8 | 9 | 10 |
| !QAZ1qaz | Austin02 | Charles1 | Falcons7 | iydgTvmujl6f | Lebron23 | Mustang1 | Peaches1 | Rockyou1 | Sweetie1 |
| !QAZ2wsx | Austin316 | Charlie1 | Florida1 | Jackson1 | Letmein1 | Myspace1 | Peanut01 | Ronaldo7 | Sweetpea1 |
| !Qaz2wsx | Australia1 | Charlotte1 | Football1 | Jackson5 | Liberty1 | Natalie1 | Peanut11 | Russell1 | Taylor13 |
| !QAZxsw2 | Awesome1 | Charmed1 | Forever1 | Jamaica1 | Lindsay1 | Natasha1 | Pebbles1 | Rusty123 | Tbfkiy9oN |
| !QAZzaq1 | Babyboy1 | Chelsea1 | Forever21 | James123 | Lindsey1 | Nathan06 | Penguin1 | Sabrina1 | Teddybear1 |
| #EDC4rfv | Babygirl1 | Chelsea123 | Formula1 | January1 | Liverp00l | Newyork1 | Phantom1 | Sail2Boat3 | TheSims2 |
| @WSX2wsx | BabyGirl1 | Chester1 | Frankie1 | January29 | Liverpool1 | Nicholas1 | Phoenix1 | Samantha1 | Thirteen13 |
| 123qweASD | Babygurl1 | Cheyenne1 | Freddie1 | Jasmine1 | Liverpool123 | Nichole1 | Pickles1 | Santana1 | Thumper1 |
| [email protected] | Bailey12 | Chicago1 | Freedom1 | Jazmine1 | Longhorns1 | Nicole12 | Playboy1 | Savannah1 | Thunder1 |
| 1941.Salembbb | Barcelona1 | Chicken1 | Friday13 | Jeffrey1 | Love4ever | Nirvana1 | Pokemon1 | Scooter1 | Tiffany1 |
| 1qaz!QAZ | Baseball1 | Chocolate1 | Friends1 | Jehovah1 | Loveyou2 | November1 | Poohbear1 | Scorpio1 | Tiger123 |
| [email protected] | Batista1 | Chopper1 | Friends2 | Jennifer1 | Lucky123 | November11 | PoohBear1 | Scotland1 | Tigger01 |
| [email protected] | Beautiful1 | Chris123 | Fuckoff1 | Jennifer2 | M1chelle | November15 | Popcorn1 | Scrappy1 | Tigger12 |
| 1qazZAQ! | Beckham7 | Christian1 | Fuckyou1 | Jeremiah1 | Mackenzie1 | November16 | Pr1nc3ss | Sebastian1 | Tigger123 |
| [email protected] | Bella123 | Christina1 | Fuckyou2 | Jessica1 | Madison01 | Nursing1 | Pr1ncess | Senior06 | Timothy1 |
| 3edc#EDC | Benjamin1 | Christine1 | FuckYou2 | Jessica7 | Madison1 | October1 | Precious1 | Senior07 | Tinkerbell1 |
| Aaliyah1 | Bentley1 | Christmas1 | Gabriel1 | Jesus123 | Madonna1 | October13 | Preston1 | September1 | Titanic1 |
| ABC123abc | Bethany1 | Classof08 | Gangsta1 | Jesus143 | Makayla1 | October22 | Princess01 | Serenity1 | Trinity1 |
| abc123ABC | Bigdaddy1 | Clayton1 | Garrett1 | Jesus1st | Marie123 | Omarion1 | Princess07 | Shannon1 | Trinity3 |
| ABCabc123 | Blessed1 | College1 | Gateway1 | Jesus4me | Marines1 | Orlando1 | Princess08 | Shopping1 | Tristan1 |
| abcABC123 | Blink182 | Colombia1 | Genesis1 | Jesus777 | Marissa1 | [email protected]$$w0rd | Princess1 | Skittles1 | Trouble1 |
| Abcd1234 | Blink-182 | Colorado1 | Georgia1 | Jesusis#1 | Marshall1 | [email protected] | Princess12 | Slipknot1 | Trustno1 |
| Abigail1 | Blondie1 | Computer1 | Gerrard8 | Jesusis1 | Matthew1 | [email protected] | Princess123 | Smokey01 | TrustNo1 |
| Addison1 | Boricua1 | Courtney1 | Giggles1 | John3:16 | Matthew2 | P4ssword | Princess13 | Snickers1 | Twilight1 |
| Airforce1 | Bradley1 | Cowboys1 | Goddess1 | JohnCena1 | Matthew3 | Pa$$w0rd | Princess15 | Snowball1 | Unicorn1 |
| Alabama1 | Brandon1 | Cricket1 | Godislove1 | Jonathan1 | Maxwell1 | Pa55w0rd | Princess18 | Soccer11 | Valerie1 |
| Alexander1 | Brandon2 | Crystal1 | Gordon24 | Jordan01 | Melanie1 | Pa55word | Princess19 | Soccer12 | Vampire1 |
| Alexandra1 | Brandon7 | Cutiepie1 | Grandma1 | Jordan12 | Melissa1 | Panther1 | Princess2 | Soccer13 | Vanessa1 |
| Allison1 | Braxton1 | Daisy123 | Greenday1 | Jordan23 | Mercedes1 | Panthers1 | Princess21 | Soccer14 | Vanilla1 |
| America1 | Brayden1 | Dallas22 | Harry123 | Joshua01 | Metallica1 | Pass1234 | Princess23 | Soccer17 | Veronica1 |
| Anderson1 | Breanna1 | Dan1elle | Hawaii50 | Justice1 | Michael01 | Passion1 | Princess24 | Softball1 | Victoria1 |
| Angel101 | Brianna1 | Daniela1 | Heather1 | Justin01 | Michael07 | Passw0rd | Princess4 | Spartan117 | Vincent1 |
| Angel123 | Brittany1 | Danielle1 | Hello123 | Justin11 | Michael1 | Passw0rd1 | Princess5 | Special1 | Welcome1 |
| Angelina1 | Brittney1 | David123 | Hershey1 | Justin21 | Michael2 | Password01 | Princess7 | Spencer1 | Welcome123 |
| Annabelle1 | Broncos1 | Death666 | Holiday1 | Justin23 | Michael7 | Password1 | Prototype1 | Spiderman1 | Welcome2 |
| Anthony1 | Brooklyn1 | December1 | Hollywood1 | Katelyn1 | Micheal1 | Password1! | Pumpkin1 | Spongebob1 | Whatever1 |
| Anthony11 | Brownie1 | December21 | Honey123 | Katherine1 | Michele1 | Password11 | Qwerty123 | Start123 | Whitney1 |
| Antonio1 | Bubbles1 | Derrick1 | Houston1 | Kathryn1 | Michelle1 | Password12 | Raiders1 | Starwars1 | William1 |
| Arianna1 | Buddy123 | Destiny1 | Hunter01 | Katrina1 | Michelle2 | Password123 | Rainbow1 | Steelers1 | Winston1 |
| Arsenal1 | Buttercup1 | Devil666 | Iloveme1 | Kendall1 | Midnight1 | Password13 | Rangers1 | Stephanie1 | Winter06 |
| Arsenal12 | Butterfly1 | Diamond1 | Iloveme2 | Kennedy1 | Miranda1 | Password2 | Raymond1 | Stephen1 | Yankees1 |
| Arsenal123 | Butterfly7 | Diamonds1 | Iloveyou1 | Kenneth1 | Molly123 | Password21 | Rebecca1 | Summer01 | Yankees2 |
| Ashley12 | Buttons1 | Dolphin1 | Iloveyou2 | Kimberly1 | Monique1 | Password3 | Rebelde1 | Summer05 | z,iyd86I |
| Asshole1 | Cameron1 | Dolphins1 | ILoveYou2 | Kristen1 | Monkey01 | Password4 | Redskins1 | Summer06 | Zachary1 |
| Atlanta1 | Candy123 | Dominic1 | Internet1 | Kristin1 | Monkey12 | Password5 | Ricardo1 | Summer07 | ZAQ!1qaz |
| August08 | Carolina1 | Douglas1 | Inuyasha1 | l6fkiy9oN | Monkey13 | Password7 | Richard1 | Summer08 | ZAQ!2wsx |
| August10 | Cassandra1 | Elizabeth1 | Ireland1 | Ladybug1 | Monkeys1 | Password9 | Robert01 | Summer99 | ZAQ!xsw2 |
| August12 | Catherine1 | Elizabeth2 | Isabella1 | Lakers24 | Monster1 | Patches1 | Rockstar1 | Sunshine1 | zaq1!QAZ |
| August20 | Celtic1888 | England1 | Isabelle1 | Lampard8 | Montana1 | Patricia1 | Rocky123 | Superman1 | [email protected] |
| August22 | Chargers1 | Falcons1 | Iverson3 | Laura123 | Music123 | Patrick1 | RockYou1 | Superstar1 | zaq1ZAQ! |
| | | | | | | | | | |