Excel sets the initial calculation mode from the first workbook opened or created.


Excel templates and Addins are excluded from this rule. Addins cannot alter the Calculation mode, unless at least one workbook is open when the Addin is loaded or run.


All subsequently opened Excel workbooks use the same mode of calculation as the first opened workbook, regardless of the mode in which they have been saved. Their calculation mode is simply being ignored.


MS article:
Description of how Excel determines the current mode of calculation
Any command, including Calculation Options, can be added to the
Quick Access Toolbar
(QAT) for faster use.
QAT is a customizable toolbar that contains a set of commands that are independent of the tab that is currently displayed.
To add Calculation Options (or any Calculation related command) to QAT:
Right click anywhere on the Ribbon or Quick Access Toolbar or go to File / Options.


Select Customize Quick Access Toolbar.


Click 'Choose commands from' and select 'All Commands' to get an alphabetical listing of ALL available commands.


Scroll down and select 'Calculation Options' command and click the Add>> button.


Note that when you click Add>>, the command is added below the selected command on the right side of the dialog. So to add a command in a particular position, first select the command above where you want to insert it. Alternatively, you can use the Up and Down arrows to reposition a command on the QAT.


Click OK. You now have a convenient a command on your QAT that will give you easy access to Calculation Options.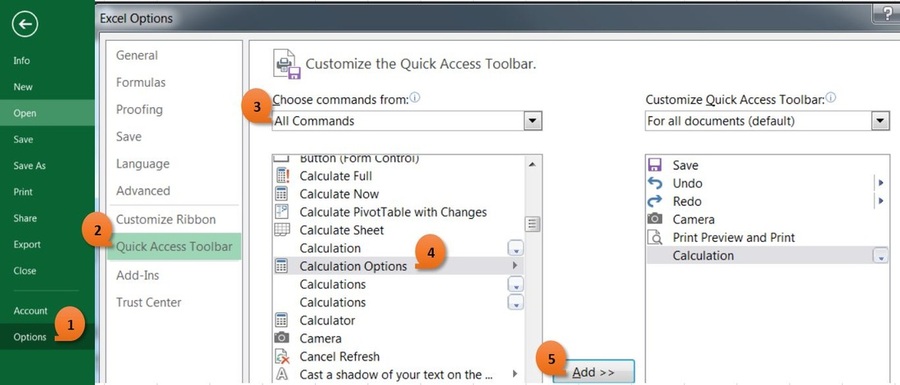 Please note:
The size of QAT command buttons cannot be increased.


The Quick Access Toolbar cannot be displayed on multiple lines.


Only commands can be added to the Quick Access Toolbar.

The contents of most lists, such as indent and spacing values and individual styles, which also appear on the Ribbon, cannot be added to the Quick Access Toolbar.

The Quick Access Toolbar can be located in one of two places:
Upper-left corner, above the File tab


Immediately below the Ribbon.


---
If you have a lot of data in Excel (think 10K,100K or 1M rows) formulas may take minutes to calculate.
Please
contact us
to learn how to speed up slow calculations using either formulas or VBA/C++ code.