VBA Add-ins with & without Ribbon Commander

Dynamic Excel VBA Add-ins powered by Ribbon Commander

Ribbon Commander
is a framework for dynamic Office Ribbon manipulation from VBA & .NET
Stop worrying and love your ribbon: design intuitive and beautiful ribbon UIs!
Academic / Tutorial Add-ins
Excel / VBA function navigation Add-in

Use multi-lingual Ribbon menus to navigate to online Microsoft help articles in over 40 languages, which describe the syntax, usage and backwards compatibility of functions in Excel 2013 and VBA
---
Excel User Productivity Add-ins
---
IT Administrator Add-ins
---
Office Template Add-ins
Vertex42 Template Gallery

Increase your productivity with a professionally designed spreadsheet template or Word document. Browse in Excel over 250+ templates designed by Vertex42.com including calendars, planners, financial calculators, letters, budgets, invoices and more.
---
VBA Development Add-ins
---
PowerPoint Add-ins
---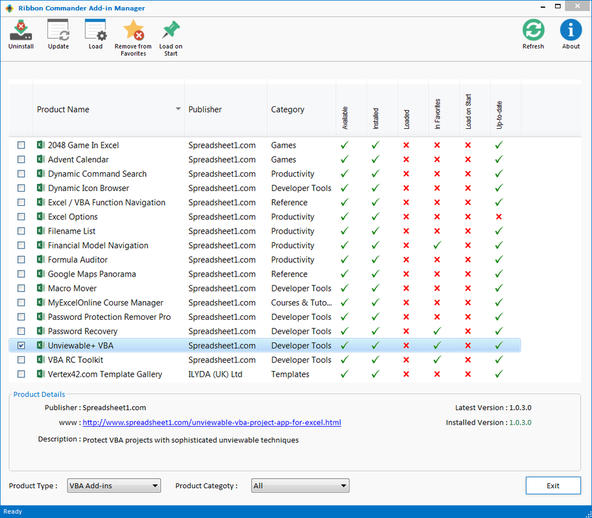 All Excel VBA Add-ins bundled with Ribbon Commander are available through the framework's Add-in Manager
---
Add-in FAQ
Are your Excel add-ins truly 100% free for personal and commercial use?
Yes, anyone who owns Microsoft Office 2007 (or later) and the Ribbon Commander framework can use our free add-ins for both personal and commercial purposes.
Are there any ads or any other third-party software included within the add-ins?
No. The add-ins are normal Excel .XLAM files and do NOT show nag screens or ads.
Which Microsoft Office versions are supported?
Our free Add-ins are compatible with: Excel 2007, 2010, 2013, 2016. Both 32 / 64-bit Office versions are supported.
We do not offer compatibility for Excel 2003 as Microsoft Office 2003 (and Windows XP) support has ended on April 8, 2014
Is the VBA source code in add-ins available for review?
Selected VBA projects can be unlocked using password:
RC

Source code for add-ins locked as unviewable could be provided to qualified organizations for a fee.
Can I request program features or report bugs?
Yes, please use the
addin feedback form
or
contact us
---

Do you have an idea that you want to become a reality in Excel?

Please

contact us

and we can work together to build a FREE add-in!