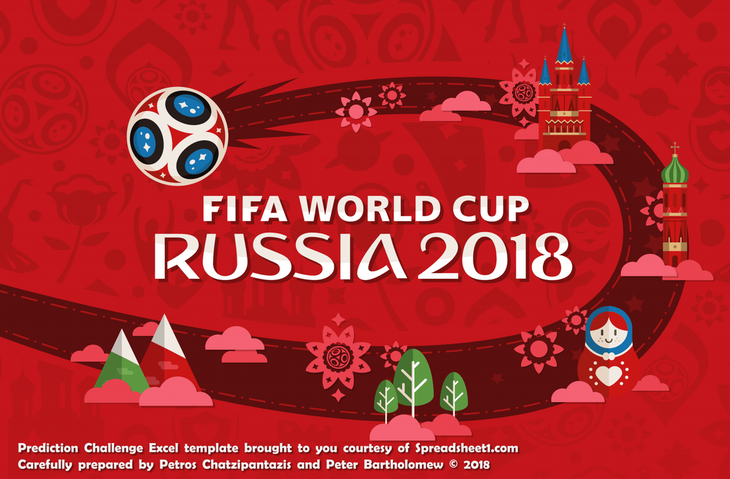 Attention all football fans around the globe! The biggest soccer festival will kick off on the 14th June 2018 in Russia and everyone is guessing who will have the honour of lifting the golden trophy. Could the Europeans edge off their South American counterparts and keep the trophy in Madrid, Berlin, Moscow or London?
To celebrate the greatest FIFA football event, we have created a
free
interactive Excel spreadsheet to predict the World Cup finalists! Keep track of the FIFA game scores and fill in your predictions in Excel!
World Cup 2014 Brazil Template - Please click here
---
Brief Guide To Stadiums In Russia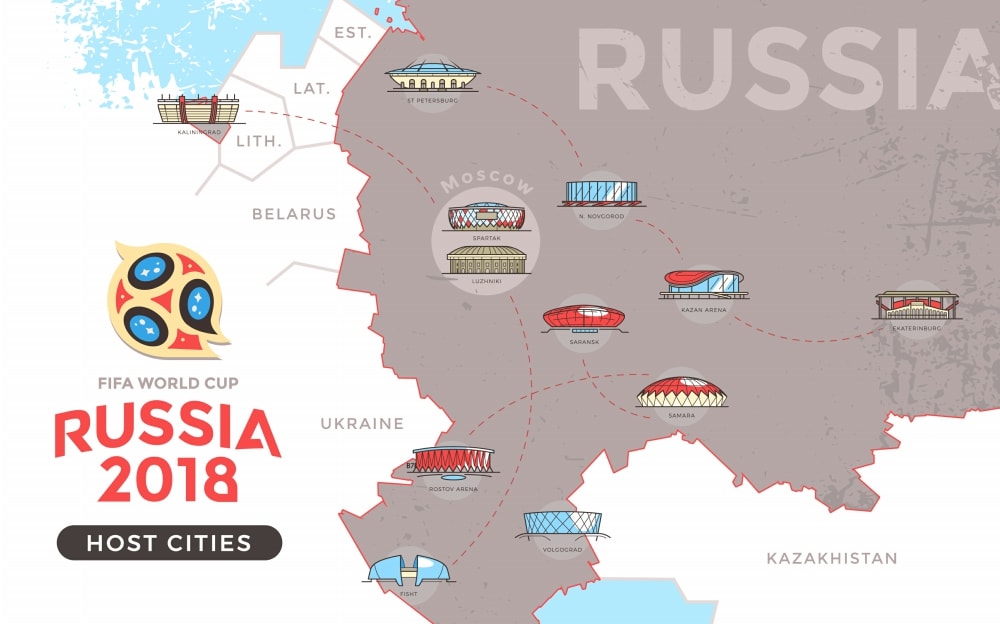 Ekaterinburg Arena (capacity: 36K)
15/6 Egypt v Uruguay
21/6 France v Peru
24/6 Japan v Senegal
27/6 Mexico v Sweden

Kazan Arena (capacity: 45K)
16/6 France v Australia
20/6 Iran v Spain
24/6 Poland v Colombia
27/6 South Korea v Germany

Spartak Stadium (capacity: 45K)
16/6 Argentina v Iceland
19/6 Poland v Senegal
23/6 Belgium v Tunisia
27/6 Brazil v Serbia


Luzhniki Stadium (capacity: 80K)
14/6 Russia v Saudi Arabia
17/6 Germany v Mexico
20/6 Portugal v Morocco
26/6 Denmark v France
11/07 Semi-final
15/07 Final



Fisht Stadium (capacity: 48K)
15/6 Portugal v Spain
18/6 Belgium v Panama
23/6 Germany v Sweden
26/6 Australia v Peru

Kaliningrad Stadium (capacity: 35K)
16/6 Croatia v Nigeria
22/6 Serbia v Switzerland
25/6 Spain v Morocco
28/6 England v Belgium

Nizhny Novgorod (capacity: 45K)
18/6 Sweden v South Korea
21/6 Argentina v Croatia
24/6 England v Panama
27/6 Switzerland v Costa Rica
06/7 Quarter-final

Saint Petersburg (capacity: 64K)
15/6 Morocco v Iran
19/6 Russia v Egypt
22/6 Brazil v Costa Rica
26/6 Nigeria v Argentina
10/7 Semi-final
14/7 Third place play-off


Mordovia Arena (capacity: 44K)
16/6 Peru v Denmark
19/6 Colombia v Japan
25/6 Iran v Portugal
28/6 Panama v Tunisia

Volgograd Arena (capacity: 46K)
18/6 Tunisia v England
22/6 Nigeria v Iceland
25/6 Saudi Arabia v Egypt
28/6 Japan v Poland

Rostov Arena (capacity: 45K)
17/6 Brazil v Switzerland
20/6 Uruguay v Saudi Arabia
23/6 South Korea v Mexico
26/6 Iceland v Croatia


Samara Arena (capacity: 45K)
17/6 Costa Rica v Serbia
21/6 Denmark v Australia
25/6 Uruguay v Russia
28/6 Senegal v Colombia
07/7 Quarter-final


---
Top World Cup Goal Scorers

---
Video Review​
---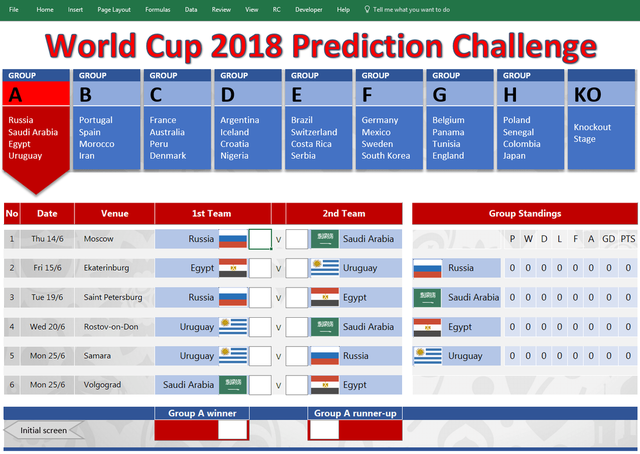 ---
What Do You Think?
I would love to get your input on how to make this Excel World Cup template better. If you notice any bugs or have a new feature request or would like to suggest modifications to existing features, please let me know in the comments section below. This article will always be updated with the latest software version, so check this web page often.

​I look forward to your feedback :)