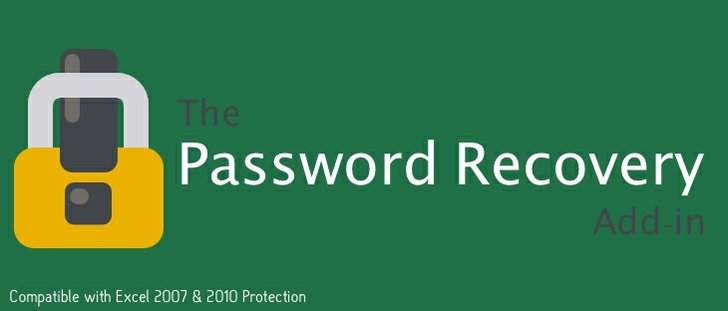 Protection Password Recovery Addin bundle: Excel-PowerPoint-Word
The Ribbon add-in shown below is a native VBA addin (xlam), which doesn't require installation. It can be used to unprotect sheets or workbook structure locked with Excel 2007 or 2010 only.

However it can unlock standard VBA projects in Excel, PowerPoint and Word!
Caution: Unviewable and custom protected VBA projects cannot be unlocked.

This add-in comes with a perpetual license, not a subscription.
---
---
---
---

---
---
Password Recovery FREE Add-in Powered By Ribbon Commander

An enhanced version of the Password Recovery add-in for Excel (only) is bundled with a paid
Ribbon Commander
annual subscription. Ribbon Commander subscribers have free access to a suite of
next-generation add-ins
.
Use what you want, when you want, from the entire add-in collection
!
So, both the
Password Remover Pro
and the
Password Recovery
(RC) add-in, among several other addins, can be used with a Ribbon Commander
subscription
.

---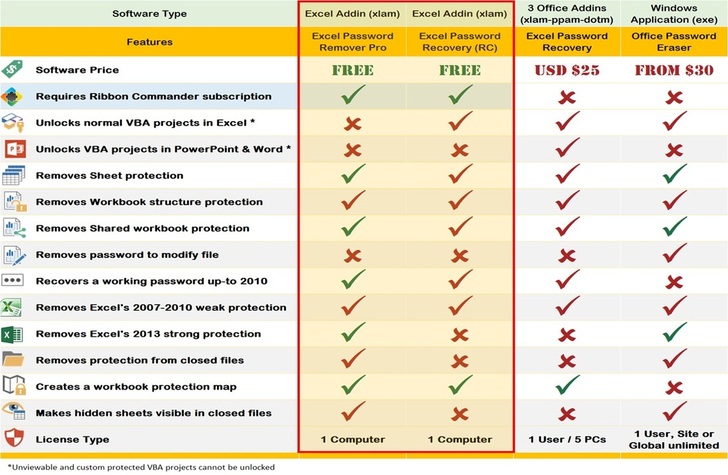 ---
Please click button once to download the FREE Excel add-in & workbook samples
powered by the Ribbon Commander framework (RC)

---
FAQs

Can I review the VBA source code or create derivative works with it?
No, the VBA project is locked. However, we may provide the source code for a fee upon request and allow derivative works for use within your organization. Please
contact us
for more details.
In which MS-Office Excel versions can the add-in be run?
This add-in can be used with Excel 2007 or later. It works in Excel 2010, 2013, 2016 x64-bit too.

Which Excel password cannot be removed?
Excel file-to-open and modify passwords cannot be removed by this add-in under any circumstances.
---
Additional Password Removal Addins