Dell Precision™ M4700 was (still is?) one of the world's most powerful 15 inch mobile workstations with performance, battery life, monitor support and storage capacity optimized for demanding work environments.

---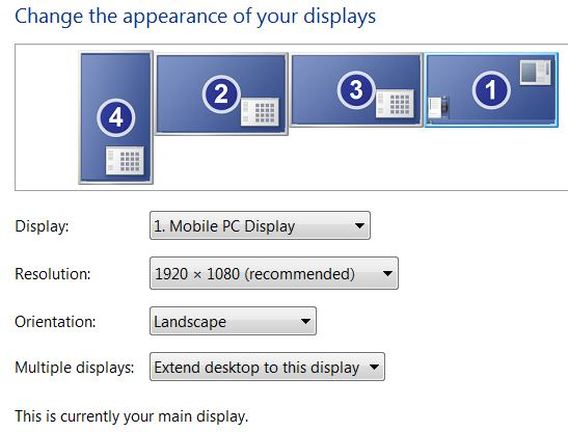 Dell Precision M4700 can support 3 external monitors using VGA, DVI and DisplayPort connections
---
The problem with 32/64 bit Office

Excel power users, such as VBA developers and financial modelers can benefit from 64 bit MS-Office, as a large amount of memory can be utilized (up to 32GB RAM on the M4700). As discussed in our tutorial article about
compatibility between the 32-bit and 64-bit versions of Office
, the 32 & 64-bit versions of Microsoft Office cannot be installed side-by-side natively on the same 64-bit machine.
However, several Excel applications have to be run in Office 32 bit, mainly due to compatibility with existing 32-bit ActiveX controls and legacy Add-ins. The extra memory capacity of 64 bit Windows/Office comes at the cost of compatibility with 32 bit applications.
Dell M4700 solution
The disk caddy of Dell Precision M4700 is cleverly designed and is quite versatile. It can be ejected using a sliding release switch inside the battery compartment. Hard or solid state disks can be swapped very easily without tools in seconds, as drives are secured inside the caddy without screws.
Caution:
The disk should NOT be hot swapped, unless drives are operating in AHCI mode.
The factory supplied HDD or SSD can be duplicated using disk cloning software. We used the
Macrium Reflect free edition
disk imaging software.
MS-Office 64 bit could be installed in the 1st disk, so that all available RAM can be used with Excel. All MS-Office 32 bit versions e.g. from 2003 until 2013 could be installed in a 2nd disk for compatibility and testing purposes. A 3rd disk can be used for off-line work or for installing a Linux O.S. etc
Data Security
Physical security and data protection is an important consideration, while travelling or working remotely from corporate headquarters. Usually, any 15 inch laptop is too large to fit inside a safe, but 2.5 inch hard drives can be locked even in hotel mini safes.
For more information on hard disk encryption, please read our article:
How To Transport Business Data Securely
Notes

Manuals and documents for Dell Precision M4700
---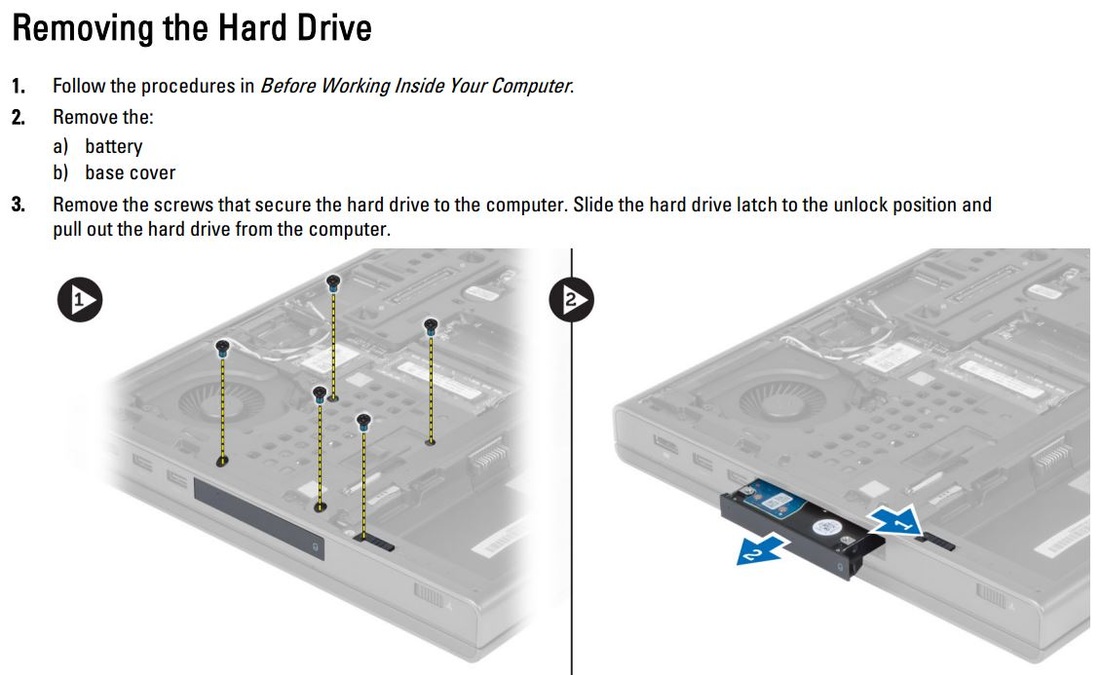 To eject a Dell Precision M4700 caddy, remove all 4 screws that secure it to the chassis.
(Hard disk screws are marked with H)
Then remove a 5th screw, which secures the eject slider switch, located inside the battery compartment
---
Running multiple operating systems from the same disk


We recommend cloning the Dell M4700 factory disk and use the copies as described above.
However, an alternative to using multiple disks could be to run multiple operating systems from a single disk. Such a configuration requires advanced knowledge of how computers work. Dell Precision computers (among other models) include a recovery partition to restore the disk to the factory default state.
Attempts to modify partitions or the master boot record (MBR) could corrupt the default restore process beyond repair. We do not recommend multi-booting with the M4700.
Dell Recovery Manager
The Dell Backup and Recovery Manager is pre-installed in all Precision systems, and helps users return a Precision system to its factory default state. Perform this operation, if the system experiences an unrecoverable crash, becomes infected by a virus or other malicious program, or simply to clean out the hard drive for improved performance and security.
To initiate the restore process:
Backup all your data to external media, as the disk will be erased.

Press

F8

during startup.

Use the arrow keys to highlight

Repair Your Computer

and press 'Enter', then click 'Next'

Log on using your username / password.

Click Dell Backup and Recovery Manager from the bottom of the list.
Click the drop-down menu and select Dell Factory Image from the list (if not shown).

Click 'Next'

Check the confirmation box and click 'Next'



Other previously created backup images, may appear in the list as well.

The image stored on the recovery partition of the drive won't be available, if the partition has been deleted or corrupted.

The restore process cannot be stopped, after it has been confirmed.
How to extend Dell's M4700 battery life
As mentioned above, the disk caddy can be ejected using a sliding release switch inside the battery compartment. Please don't forget to shut down the laptop properly, before swapping disks. Otherwise data may be lost.
There are 2 benefits, if the battery is removed when is not needed it e.g. when you are desk bound:
The eject switch can reached much faster, especially when lots of cables are connected to the laptop.

The battery won't be constantly charged or discharged (if the laptop sits unplugged in your desk).
Batteries wear out gradually during charging / discharging cycles. With minimum use, your Dell battery will last longer. Just remember to top-up its charge, before you need the M4700 portable again.
---
Fixes for Windows 10 Problems
Most new operating systems arrive with a few bugs. Windows 10 is no exception! I have put together some quick tips to solve problems noticed with my Dell M4700:
Apricorn Aegis secure encrypted disks and USB sticks are not recognized by Windows 10, if inserted in USB 3.0 ports (right-hand side only). Please note that USB ports on M4700 are not colored in blue.

Workaround: Go to Device Manager, click the 'Intel(R) USB 3.0 eXtensible Host controller 1.0 (Microsoft)', uninstall the driver without deleting it from disc. Finally let Windows scan your PC for hardware changes, so that the driver is reinstalled.


HDMI monitor port is not recognized: Install the graphics driver using the packages from Dell Support