The most common reason behind Excel 2007 crashes in an otherwise 'healthy' PC is an unpatched Microsoft Office 2007 suite. The initial release of Excel 2007 was highly unstable, perhaps due to the several innovative, nevertheless not adequately tested features, which were released in 2007.
Service Pack 1
, published on 12/8/2007, included stability improvements developed as a result of user input from the Microsoft Online Crash Analysis program and from Microsoft Product Support feedback.
A
Service Pack
(in short SP) is a collection of updates, fixes or enhancements to a software program delivered in the form of a single installable package.
Service pack 2
offered additional stability improvements, plus security and performance enhancements. The latest Office 2007
Service Pack 3
includes all fixes which were included in SP1 and SP2.

Office service packs are cumulative
, so neither SP1 nor SP2 have to be installed, before SP3 is installed.
In order to determine which Service Pack is installed in your MS-Office 2007 suite:
Click the 2007 Office Button (top-left most button in the window)

Click the Excel Options button.

Click Resources at the bottom of the list at the left.

Click About (Optional)
A properly patched Office suite should read SP3 MSO.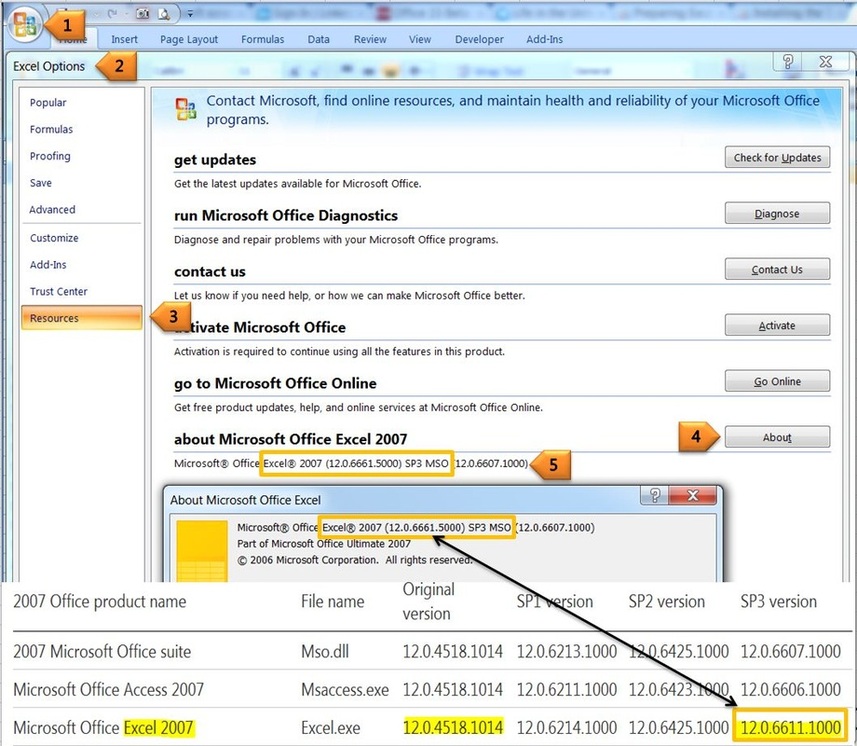 To determine which version of a 2007 Office product is installed read
this article
---

The above information shows an unpatched 'crash-prone' Office 2007 suite
---
Office 2010 Service Packs
The version number of the original RTM release of Office 2010 (that is, with no service pack) is greater than or equal to 14.0.4763.1000 but less than 14.0.6029.1000


The version number of Office 2010 SP1 is greater than or equal to 14.0.6029.1000 but less than 14.0.7015.1000 (MS Article 2121559)


The version number of Office 2010 SP2 is greater than or equal to 14.0.7015.1000.
Please read 'Description of Office 2010 Service Pack 2' published 23/07/2013.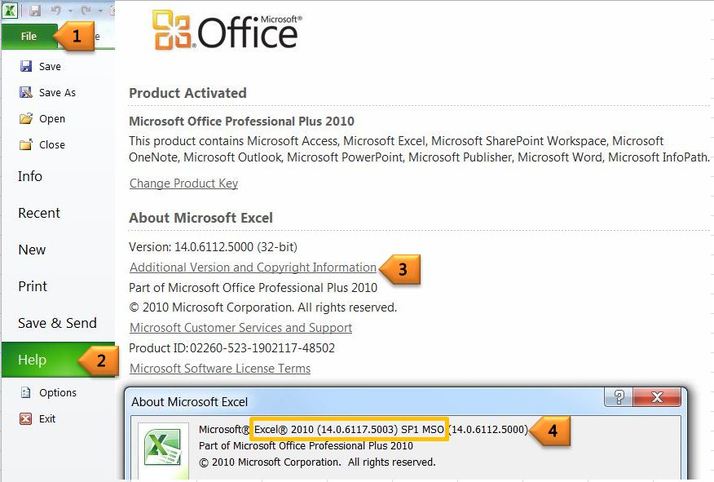 Service Pack information in Excel 2010 is displayed by following the above steps

---
Other problems solved by Service Packs
A macro that is contained in an encrypted Office Open XML file does not run in 2007 Office programs: Please read

Article ID 927150. This behavior is resolved after MS 2007 SP2 is installed.

---
Unfortunately, Excel can crash for several other reasons, even if MS-Office is patched properly.
Finally, please feel free to
contact us
for assistance.