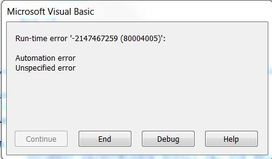 Article first published: 18/8/2012
How is MS12-060 affecting Office / Excel running VBA ?
An "Unspecified Automation Error" is displayed while running VBA code from an Excel workbook or Add-in, which worked normally until now. Tracing the problem down to a code line in VB editor is a pointless exercise, as the issue is triggered by recent Microsoft Windows update activity.
Unfortunately, there are known issues with the MS12-60 security update. Windows Common Control-based embedded ActiveX controls
may
fail to load within pre-existing Office documents and Excel workbooks, within third-party Add-in applications and when you insert new controls in developer mode.


What is MS12-060 ?
MS12-060
is Microsoft issued critical security update addressing a potential remote code execution vulnerability in MSCOMCTL.OCX, the binary included with a number of Microsoft products to provide a set of common ActiveX controls.
Why is this Security Update critical ?
MS12-060 is on the list of high priority updates in
August 2012
, because Microsoft is aware of very limited, targeted attacks taking advantage of
CVE-2012-1856
and expect to see new attacks taking advantage of this vulnerability in days ahead. Deploying MS12-060 will address the vulnerability and will protect against attacks. (Please read a related article from Symantec
here
)
---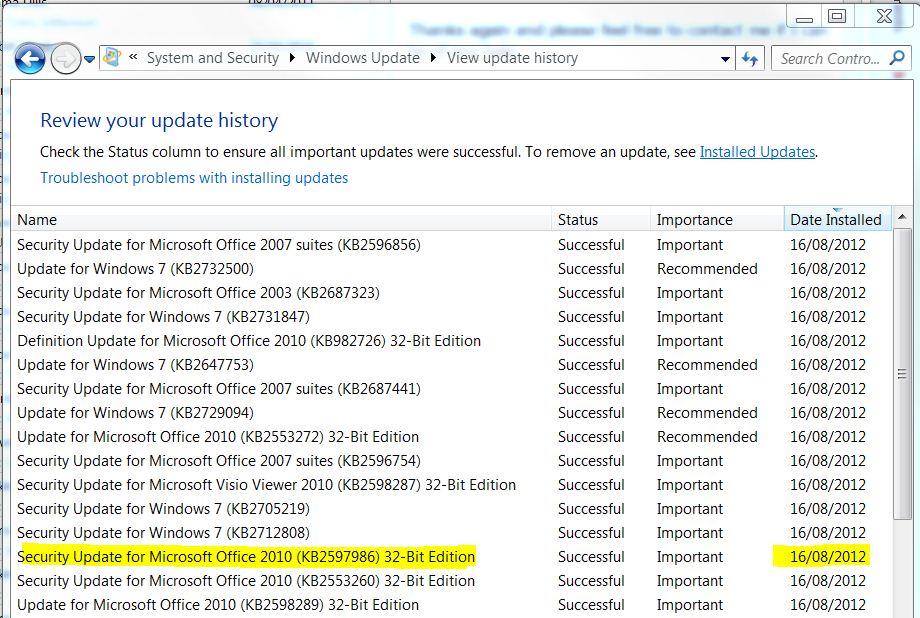 Update history in Windows 7 after applying MS12-060 (KB2597986)
---
---
Free Windows debugging tool

Process Monitor is an advanced monitoring tool for Windows that shows real-time file system, Registry and process/thread activity.

It combines the features of two legacy Sysinternals utilities, Filemon and Regmon, and adds an extensive list of enhancements. Please read more about

Process Monitor here

.