There are several factors, which influence corporate upgrade decisions for Microsoft Office software. If cost is not one of them, we advice Excel power users to upgrade asap to the most recent version for which a service pack has been released (currently Excel 2010).
Peace of mind comes with stable software, that's why we advice to opt for a time-tested version rather than volunteering to real-world beta test the bleeding edge version on an enterprise scale.
Let's briefly discuss the arguments in favor of upgrading legacy MS-Office versions:
Lifecycle support: Microsoft will offer a minimum of 10 years of support for Business and Developer products. Mainstream Support for Business and Developer products will be provided for 5 years or for 2 years after the successor product (N+1) is released, whichever is longer. Microsoft will also provide Extended Support for the 5 years following Mainstream support or for 2 years after the second successor product (N+2) is released, whichever is longer. Finally, most Business and Developer products will receive at least 10 years of online self-help support.

Extended support for Excel 2003 ends on April 2014. Security updates will not be available after that date.

Please visit the

support lifecycle index to review the support information for your MS-Office version.


The grass is greener on the other side: There is a long list of new features and improvements over Excel 2003, with the most obvious being the large grid with over 1 million rows. Excel 2010 is even more efficient and more flexible than Excel 2007 by offering additional features such as live preview, spark-lines, pivot slicers, the power-pivot add-in and a 64-bit version for awesome number crunching potential.

However, it is not the checklist of features that matters, it's the synergy of the whole. Features that may not seem compelling on paper, still make an intangible contribution that help users communicate more efficiently, and work more productively.


Compatibility: Continue to work smoothly with customers & partners that have switched to the latest Office version. Read about .NET Framework availability by version and operating system


Bugs (or 'known issues') in Excel: Excel is very complex application and, as is the case with any other software created by humans, it has bugs ! For example, read about a calculation issue (floating point bug) in Excel 2007 here. There are several other issues.

Please read our article on Microsoft Excel bugs.


We have experience with large data sets and we have been using Excel 2007 since 2007, Excel 2010 since 2009 (technical preview) and Excel 2013 since July 2012 (customer preview).
For more information about Excel version compatibility / migration or bugs, please
contact us
.
---
Support for Windows XP SP3 and Office 2003 ends on April 8, 2014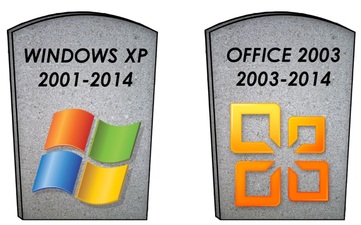 What does end of support mean for Microsoft customers?
It means you should take action and migrate your software to a new version. After
April 8, 2014
, there will be no new security updates, non-security hotfixes, free or paid assisted support options or online technical content updates.
Running Windows XP SP3 and Office 2003 in your environment after their end of support date may expose your company to potential risks, such as:
Security & Compliance Risks: Unsupported and unpatched environments are vulnerable to security risks. This may result in an officially recognized control failure by an internal or external audit body, leading to suspension of certifications, and/or public notification of the organization's inability to maintain its systems and customer information.
Lack of Independent Software Vendor (ISV) & Hardware Manufacturers support: Many independent software vendors (ISVs) are unlikely to support new versions of applications on Windows XP or Office 2003.
---