PDF Creator (free)
We recommend PDFCreator, a free (GNU-General Public License version 2.0) PDF driver, which can easily create PDFs from any MS-Office and Windows program. You can download the application from SourceForge from
this link
.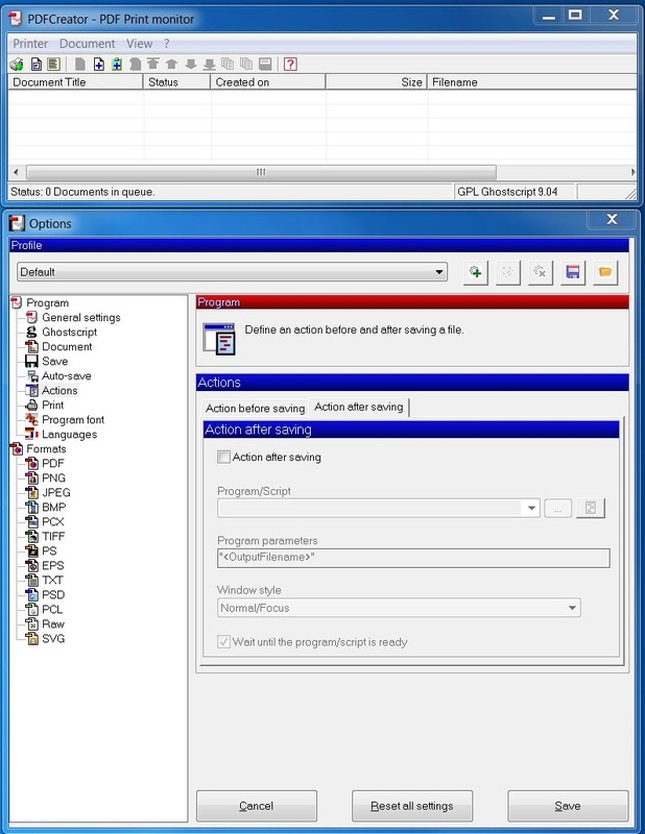 ---
Excel 2007 or later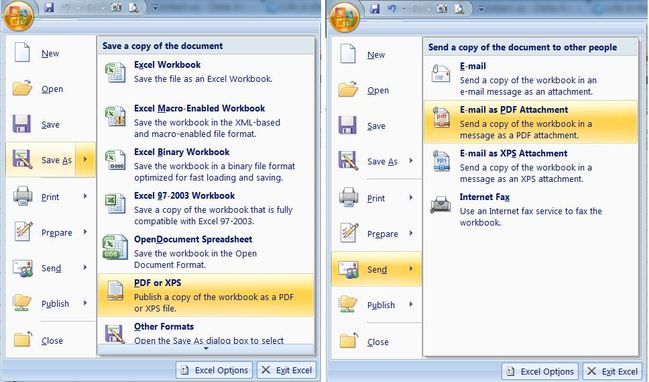 A new feature in Microsoft Excel 2007 is the ability to create and e-mail Acrobat Reader PDF files.
(MS-Office Service Pack 2 or later should be already installed)

---
Adobe Acrobat

If you want to increase your productivity by editing and reusing content, streamlining reviews, and quickly creating fillable PDF forms, we recommend using Adobe Acrobat.

Adobe Acrobat provides support for interapplication communication (IAC) through OLE and DDE on Microsoft Windows and through Apple events and AppleScript on Mac OS.

This support allows Excel / VBA to control Acrobat Professional / Standard and Adobe Reader in much the same way as a user would !

---
For more information, please

contact us

to discuss your application.

With our extensive experience in creating PDFs from Excel, you can:

Avoid PDF rendering problems with Excel.
Minimize production time.
Optimize PDF file size (important, if 100s of PDF pages would be created).
Control PDFs automatically using VBA and Acrobat's API.
Add bookmarks and links automatically to PDFs.

Abode Reader (free)

Adobe Reader software is the global standard for electronic document sharing. Use Adobe Reader to view, search, digitally sign, verify, print, and collaborate on Adobe PDF files.


To download the free Reader click

this link

.

---
---
Soda PDF

Soda PDF has been designed to streamline the way you work with PDFs by being exceptionally easy to use, well equipped and available at a price that can't be beat. Don't waste time fumbling with multiple applications just to make some modifications in your PDF document. With Soda PDF you can edit the content of a PDF like you would with a word processor. It's that easy!

---
Printing VBA tip

When printing to printer or PDF multiple worksheets in Microsoft Excel, multiple print jobs may be created (
MS-article: 168563
)
This behavior occurs, if multiple print quality settings are used to print the worksheets. Each change in the print quality setting forces Microsoft Excel to create a new print job using a single print quality setting.
To avoid multiple print jobs, which may waste paper for automatic cover pages, ensure that all of the worksheets being printed use the same print quality settings. Print quality can be adjusted manually or with the VBA macro shown below.
---
PDF Toolkit

PDFtk Free
is a friendly graphical tool for quickly merging & splitting PDF documents.
---
PDFtk Free comes with a command-line tool, PDFtk Server to:

Merge PDF documents or collate PDF page scans

Split PDF pages into a new document

Rotate PDF documents or pages

Decrypt input as necessary (password required)

Encrypt output as desired

Fill PDF forms with X/FDF Data and/or flatten forms

Generate FDF data stencils from PDF forms

Apply a background watermark or a foreground stamp

Report PDF metrics, bookmarks and metadata

Add/Update PDF bookmarks or metadata

Attach files to PDF pages or the PDF document

Unpack PDF attachments

Burst a PDF document into single pages

Uncompress and re-compress page streams

Repair corrupted PDF (where possible)
---
Dim

 

strAppName

 

As

 

String

 


Dim

 

lProcessID

 

as

 

long


 


'Join in1.pdf and in2.pdf into a new PDF, out1.pdf




strAppName

 

=

 

"pdftk in1.pdf in2.pdf cat output out1.pdf"

 
 


lProcessID

 

=

 

Shell(strAppName,

 

vbNormalFocus)



VBA snippet: Runs PDFtk server in command line & returns the process ID, if the program is still running