This is an unblocked Excel version of the viral web game 2048 by Gabriele Cirulli. Excel is fun!
Our game has been featured in
blogs.Office.com
&
Mashable.com
(read the
news section
below)
Game play:
Use the arrow keys to move tiles left, right, up, & down within the 2048 grid. If two tiles of the same number collide while moving, they will merge into a single tile equal to the total value of the two tiles. During every turn, a new tile will appear with a value of either 2 (90% of the time) or 4 (10%).
Game is over when the 2048 tile is made or when no further move is possible.
If you get frustrated by constant failure, here is quick tip: Place high value tiles near any edge - like in examples shown below - and keep building them up!
---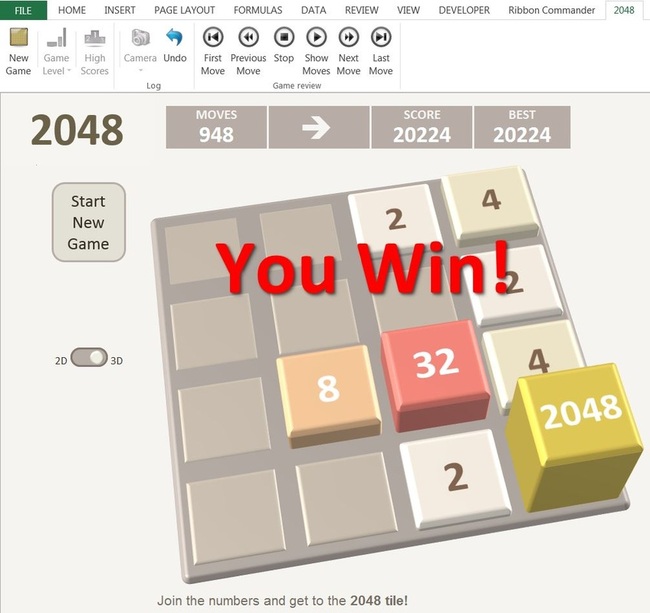 ---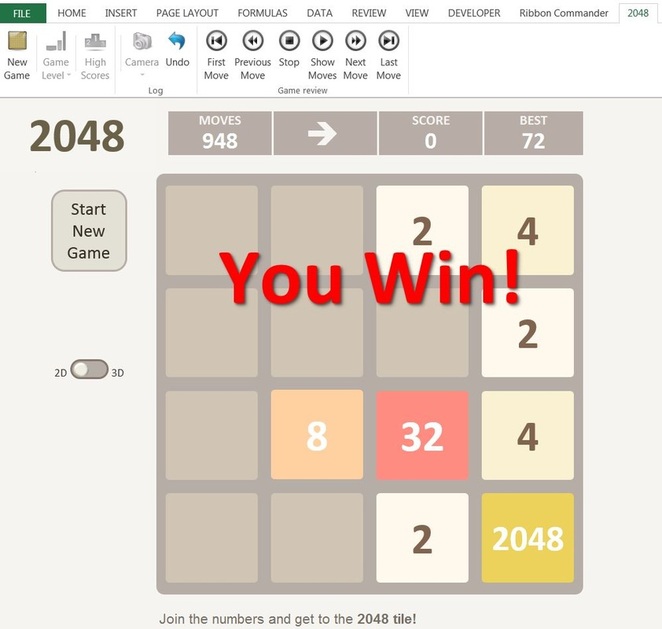 ---
---
Features of the Excel version:

Play online or off-line in 2D or 3D

Sound effects!
Every game move is logged in a worksheet for potential strategy analysis using controls in the Ribbon.

Game can be saved and resumed later (just save workbook).

Undo bad moves!

Even t

weak VBA to 4096, if 2048

is too easy for you!

The workbook requires enabled macros to run (VBA is unlocked). Read here how to enable macros.
---
Our 2048 Excel style game in the news

---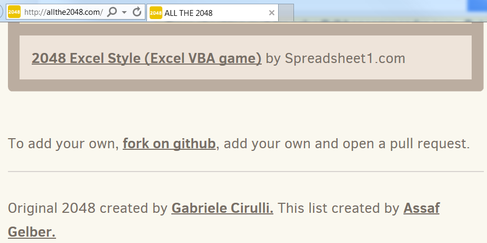 ---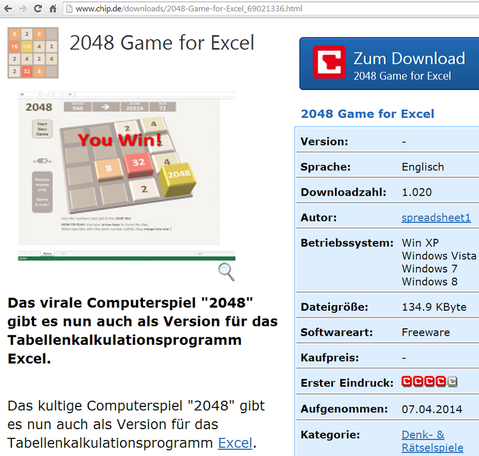 Das virale Computerspiel 2048 gibt es nun auch als Version
für
das
Tabellenkalkulationsprogramm Excel
---
---
Want to have fun at work? Look no further than Excel!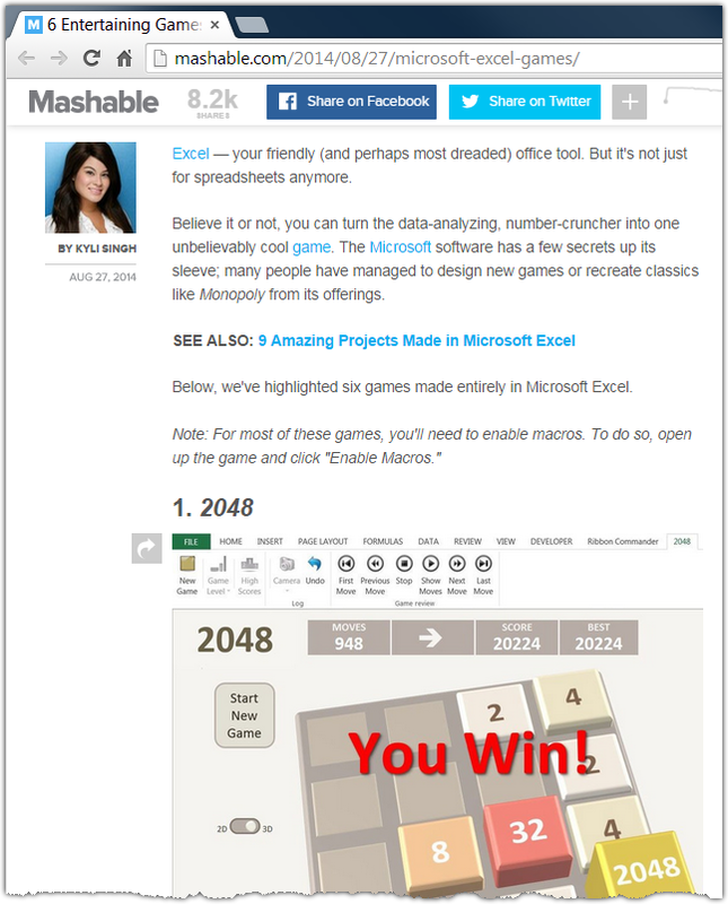 ---
---
Learn VBA: Our code is unlocked!
Option

 

Explicit





' ------------------------------------------------------------




' Excel version of the 2048 web game by Gabriele Cirulli




' Created by Peter Bartholomew & Petros Chatzipantazis




' http://www.spreadsheet1.com/2048-game-version-for-excel.html




' Please distribute freely. Attribution required.




' ------------------------------------------------------------




' Modifications by Douglas Bliss:




' - Create Tile property to access grid data based on direction




' - Create a single MakeMove function based on direction




' - Call MakeMove function from key handlers




' ------------------------------------------------------------




' Tile Property - Accesses grid data based on direction




' (not the most efficient, but it's fast enough here)




' ------------------------------------------------------------





Private

 

Property

 

Get

 

Tile(

ByVal

 

Direction

 

As

 

String

,

 

ByVal

 

Row

 

As

 

Long

,

 

ByVal

 

Col

 

As

 

Long

)

 

As

 

Long



    

Select

 

Case

 

Direction


        

Case

 

"L"


            

Tile

 

=

 

Range(

"State"

).Cells(Row,

 

Col).Value


        

Case

 

"R"


            

Tile

 

=

 

Range(

"State"

).Cells(Row,

 

5

 

-

 

Col).Value


        

Case

 

"U"


            

Tile

 

=

 

Range(

"State"

).Cells(Col,

 

5

 

-

 

Row).Value


        

Case

 

"D"


            

Tile

 

=

 

Range(

"State"

).Cells(

5

 

-

 

Col,

 

Row).Value


        

Case

 

Else


    

End

 

Select


    


End

 

Property





Private

 

Property

 

Let

 

Tile(

ByVal

 

Direction

 

As

 

String

,

 

ByVal

 

Row

 

As

 

Long

,

 

ByVal

 

Col

 

As

 

Long

,

 

ByVal

 

RHS

 

As

 

Long

)


    
    

Select

 

Case

 

Direction


        

Case

 

"L"


            

Range(

"State"

).Cells(Row,

 

Col).Value

 

=

 

RHS


        

Case

 

"R"


            

Range(

"State"

).Cells(Row,

 

5

 

-

 

Col).Value

 

=

 

RHS


        

Case

 

"U"


            

Range(

"State"

).Cells(Col,

 

5

 

-

 

Row).Value

 

=

 

RHS


        

Case

 

"D"


            

Range(

"State"

).Cells(

5

 

-

 

Col,

 

Row).Value

 

=

 

RHS


        

Case

 

Else


    

End

 

Select


    


End

 

Property





' ------------------------------------------------------------




' MakeMove - abstract logic for shifting/combining tiles




' ------------------------------------------------------------





Private

 

Sub

 

MakeMove

(Direction

 

As

 

String

)



    

Dim

 

bIsMove

 

As

 

Boolean


    

Dim

 

R

 

As

 

Long

,

 

C

 

As

 

Long

,

 

I

 

As

 

Long

,

 

lScore

 

As

 

Long


    
    

lScore

 

=

 

0


    
    

For

 

R

 

=

 

1

 

To

 

4

 

Step

 

1


        

For

 

C

 

=

 

1

 

To

 

3

 

Step

 

1


            
            

' Move from next tile over if empty:


            

If

 

Tile(Direction,

 

R,

 

C)

 

=

 

0

 

Then


                

For

 

I

 

=

 

C

 

+

 

1

 

To

 

4

 

Step

 

1


                    

If

 

Tile(Direction,

 

R,

 

I)

 

>

 

0

 

Then


                        

Tile(Direction,

 

R,

 

C)

 

=

 

Tile(Direction,

 

R,

 

I)


                        

Tile(Direction,

 

R,

 

I)

 

=

 

0


                        

bIsMove

 

=

 

True


                        

Exit

 

For


                    

End

 

If


                

Next

 

I


            

End

 

If


            

' Combine with next tile over if they match:


            

If

 

Tile(Direction,

 

R,

 

C)

 

>

 

0

 

Then


                

For

 

I

 

=

 

C

 

+

 

1

 

To

 

4

 

Step

 

1


                    

If

 

Tile(Direction,

 

R,

 

I)

 

>

 

0

 

Then


                        

If

 

Tile(Direction,

 

R,

 

C)

 

=

 

Tile(Direction,

 

R,

 

I)

 

Then


                            

lScore

 

=

 

lScore

 

+

 

2

 

*

 

2

 

^

 

Tile(Direction,

 

R,

 

C)


                            

Tile(Direction,

 

R,

 

C)

 

=

 

Tile(Direction,

 

R,

 

C)

 

+

 

1


                            

Tile(Direction,

 

R,

 

I)

 

=

 

0


                            

bIsMove

 

=

 

True


                        

End

 

If


                        

Exit

 

For

    

' stop combining after first non-empty tile


                    

End

 

If


                

Next

 

I


            

End

 

If


        

Next

 

C


    

Next

 

R


    
    

m_lTotalScore

 

=

 

m_lTotalScore

 

+

 

lScore


    

If

 

bIsMove

 

Then

 

AddTile


    

FormatTiles

 

Direction,

 

bIsMove


    

If

 

bIsMove

 

Then

 

MidiMakeMove

 

lScore


    


End

 

Sub





' ------------------------------------------------------------




' Key Handlers:




' ------------------------------------------------------------





Sub

 

LeftArrowPressed

()


    

MakeMove

 

"L"




End

 

Sub





Sub

 

RightArrowPressed

()


    

MakeMove

 

"R"




End

 

Sub





Sub

 

UpArrowPressed

()


    

MakeMove

 

"U"




End

 

Sub





Sub

 

DownArrowPressed

()


    

MakeMove

 

"D"




End

 

Sub