Anticipate Christmas By Counting Down The Days Using Excel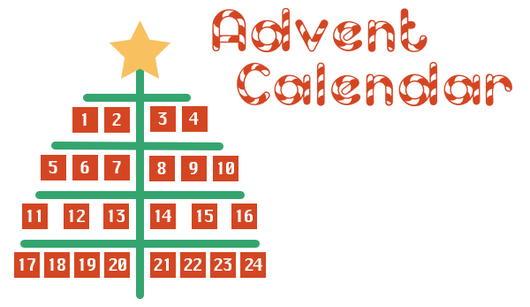 Advent Calendars are often referred to as Christmas countdown calendars. It is a special calendar used to count or celebrate the days in anticipation of Christmas. Our handmade
Excel version has the form of a large rectangle with 24 Mediterranean style windows: one for each day leading-up to Christmas Day. Don't expect any treats to be hiding behind the windows on your monitor. Sorry, you can't punch out holes or print our template either!


Use the calendar online or while working offline.
The windows should be opened starting with the first one. Our advent calendar 2015 template is esoteric. You have to answer multiple choice questions
shown in the Ribbon in order to open each window! After an Excel quiz is answered correctly, a treat is revealed. You will be greeted by a warm Christmas message, after all questions have been ticked successfully.
---
Some buttons inside the question group, if clicked, will launch online articles with hints. Please hover you mouse over the button to read the control's supertip for further help. Don't forget to crank-up the volume of your PC, if you want to enjoy the MIDI sounds effects!
---
Quizzes From Some Of the MS-Office Community's Finest

Several Office bloggers have submitted quizzes with various degrees of difficulty for Excel and PowerPoint:
Mourad Louha (Excel MVP) has translated the entire ribbon user interface in German. You can read his article here

Chris 'Macro' who runs the eye-catching TheSpreadsheetGuru.com blog has contributed a VBA oriented question set.

The Slideshop.com quiz is for PowerPoint addicts!
Please check this page often, as more quiz providers are constantly being added!
---







Mourad is an Excel MVP working as independent software developer and trainer since 2005 and lives in Aachen, located at the tripoint between Germany, Belgium and the Netherlands. In his spare time he shares his passion for Excel in online communities around Office, blogs about Office & Co. and operates own community projects in collaboration with friends and partners.

---

TheSpreadsheetGuru.com

is a dedicated tutorial blog for data analysts who want to expand their knowledge of advanced and time-saving techniques in Microsoft's Excel, PowerPoint, and Word programs. Launched in 2014, this blog has quickly become recognized for its cutting-edge design and easy to understand tutorials geared towards those who want to become their company's resident office guru.

---

Slideshop.com

provides professionally designed PowerPoint templates for personal and business presentations. Established by serial entrepreneur Toke Kruse, Slideshop also blogs about proven techniques for effective public speaking and communication.

---

wellsr.com

is your one stop shop for everything VBA. Featuring step by step VBA tutorials and macro examples, the wellsr.com blog teaches you how to automate complex tasks while learning to master VBA basics. In addition to VBA articles, this site includes an Excel Add-ins shop where visitors can download add-ins designed to further integrate Excel and VBA in quick and powerful ways.

---

mathlayer

is a C++ numerical library allowing to call Matlab/Octave code from other Windows applications including Microsoft Excel. It is licensed under a Creative Commons Attribution 4.0 International License which means you can use it for free and for any purpose you want.

---

IntelExcel

is a Portuguese based tutorial blog that aims to improve Excel knowledge and skills in the Brazilian community. Managed by Karine Lago, a passionate Excel consultant who is Microsoft Office Specialist Expert in Excel (MOS) certified.

---

LaOficina es un sitio web con un grupo de trabajo dedicado a la optimización de procesos de negocio a través de Excel con VBA y Visual Studio, para diferentes tipos de clientes que utilizan Excel como herramienta fundamental para la mayoría de los puestos de trabajo en la empresa.

---

Excel Advent Calendar Contest 2015

To celebrate the season of giving with our readers, several Advent Calendar providers are hosting contests with FREE software licenses and tutorials as prizes

!

Select any quiz. If you answer all questions correctly, a pop-up form will guide you to a webpage hosted by a blogger to enter a contest.

Needless to say, that you can participate in several contests at the same time, as your details will not be shared among quiz providers. So, answer as many quizzes you can for a chance to win great software and tutorials from the Excel's community finest!

Spreadsheet1.com

is offering 3 FREE

Ribbon Commander

annual license subscriptions!




Contest is subject to the following rules:

The contest is open to adults over 18 years old globally, but is void where prohibited.
Existing Ribbon Commander subscribers and quiz providers are not eligible to participate
No purchase is necessary
The contest starts 1 December 2015 and ends 24/12/2015
Only one entry per participant is permitted
The winners of the contest will be contacted via the provided email addresses
Ribbon Commander license winners will be asked to register with FastSpring eCommerce in order to receive their software activation code via a 3rd party automated license server
Email addresses will not be shared with 3rd parties. Read our Privacy policy here


---

We hope that the calendar template proves to be an educational and fun experience!

---
VBA Chord Diagram With Hierarchical Edge Bundling

This VBA chord diagram uses the free D3.js JavaScript library to demonstrate a graphical method of displaying the inter-relationships between code procedures in the
Advent Calendar
VBA project powered by
Ribbon Commander
.
The data is arranged radially around a circle with the relationships between the points drawn as arcs connecting the procedures together. Instead of using straight lines to show the interconnections, this chord diagram employs a technique called 'hierarchical edge bundling' to reduce visual complexity.
The
project name
,
module type
and
name
is shown at the bottom of the chart when the mouse pointer hovers over a VBA procedure (mouse click not required).
---
---