Because Sometimes We Forget...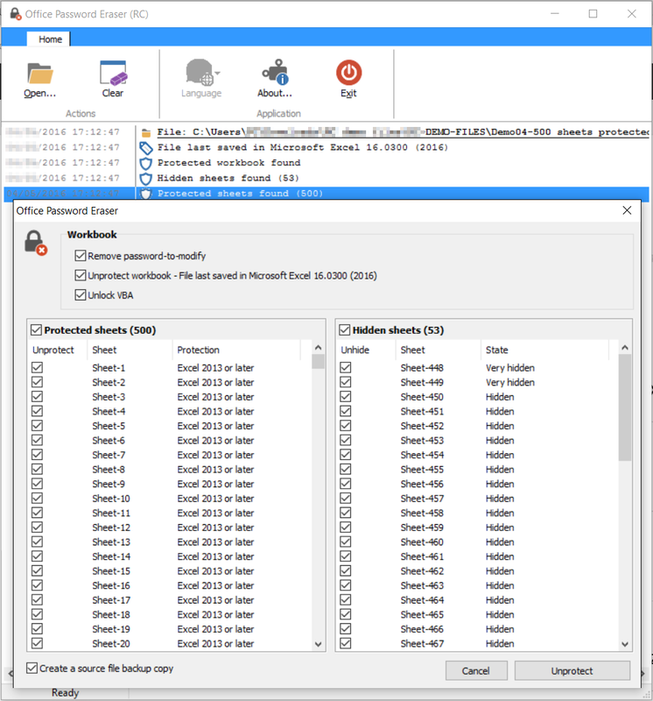 ---
Have you ever forgotten an Excel or VBA project password? Did an employee leave your company without handing over their password records? The unique, complex passwords used to protect critical files require a lot of effort to track, so it is easy to get locked out of your documents and interrupt your workflow.
Office Password Eraser
is a
portable
, standalone Windows application (exe) developed in Embarcadero Delphi. It is not an Office add-in. Neither installation, nor Office are required. The software can remove the following passwords from Excel 2007, 2010, 2013, 2016 Open XML files (xlsx, xlsm, xltx, xltm, xlam), even in computers without Microsoft Office:
Workbook structure and Shared workbook protection

Sheet

protection (worksheet, chart, Excel 4.0 Macro, Excel 5.0 Dialog)
Password-to-modify file
Standard VBA protection
---
What The Software Cannot Do:

Binary XLSB

or

legacy XLS files must be saved as XLSX or XLSM file format before being unprotected.
The file-to-open password cannot be cracked due to advanced AES encryption used by Excel 2007 or later.

Workbook, sheet and VBA passwords cannot be removed from encrypted files (locked with a file-to-open password).

Unviewable and custom protected VBA projects cannot be unlocked, unless the workbook has been shared using the 'Protect and Share Workbook' button under the Review ribbon tab.

---
Feature Summary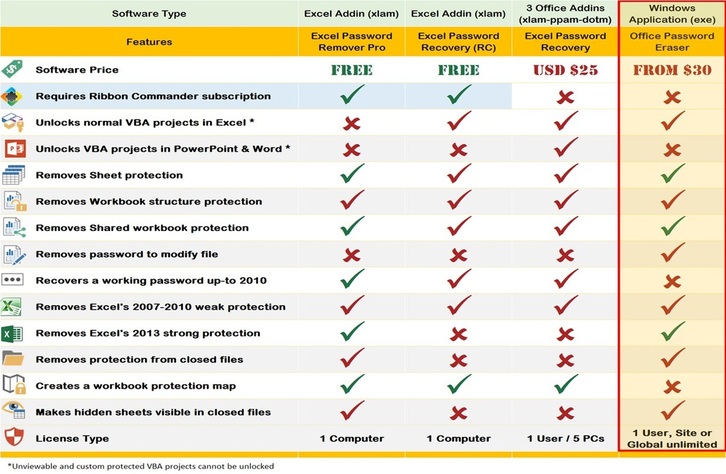 ---
Support For Strict XLSX Spreadsheets (ISO 29500)

The
Strict
variant of Excel's XLSX Open XML file format (ECMA-376 Editions 2-4) excludes a variety of elements and attributes that are permitted in the default
Transitional
variant (ECMA-376 Edition 1). The markup for the
Strict
variant is essentially a subset of markup for the Transitional format.
The Strict variant of XLSX was introduced during the standardization in ISO/IEC 29500 with the intention of excluding features included in ECMA-376 Edition 1, that were present simply to handle bugs and features of earlier spreadsheet applications.

A notable difference between the Strict and the Transitional file format is that



legacy techniques



for protecting workbooks and their contents are not allowed in XLSX Strict. Read about Excel's strong protection

here

. Excel 2010 can read, but not write, Strict spreadsheets using

OOXML Strict converter for Office 2010

.

Office Password Eraser

supports password removal from Strict Excel Spreadsheets created or saved by Office 2013, 2016 and Office 365 (cloud).
---
Command Line Support

Office Password Eraser can be used from the command line for batch file processing. Use /? to view switches in command prompt window.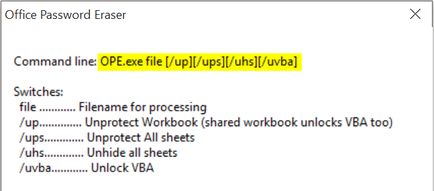 ---
Customer Privacy


The Office Password Eraser application does not require a connection to the internet to ease any concerns from customers who are sensitive about their privacy and/or corporate espionage. The software is a portable Delphi Windows application (exe) that does not need installation!
---
---
Visit Our e-Commerce Store In FastSpring To Buy Licenses

Office Password Eraser
, like our popular
Unviewable+ VBA
application, is available as a standalone
portable
windows application [written in Delphi] with perpetual licenses as shown below, which can be branded with your logo (instead of ours) in the About form. Branded applications are intended for enterprise internal use only [
not for resale
].

Let your brand be the hero: Office Password Eraser application with customer logo in About form [NOT FOR RESALE]
---
1 Site license: A software licensing agreement that grants the purchaser permission to use the software on a network and/or in several computer at a particular site or facility, with an unlimited number of software users.
---
Terms

All application software
updates are FREE
for customers who buy standalone perpetual licenses.
Since the Windows application is portable,
all sales are final
. No refunds are being offered for perpetual licenses or source code.
The software is not licensed for use as a security service to the general public.

Caution: File-open encryption passwords cannot be removed by this software. Workbook, sheet or VBA passwords cannot be removed from within encrypted files and binary files (xls, xlsb). VBA passwords cannot be removed from unviewable or custom protected projects. If your intention was to hack a file-open password or an unviewable VBA project or do not understand what an Excel file-open password is, please email us immediately to receive a full refund before your software is delivered. No refunds are being offered for perpetual licenses or source code that have been delivered.

The strict return policy is due to the nature of this product. Your delivered order will be only refunded if you send us an Excel file that causes our software to malfunction with it. Your Open-XML non-binary Excel file must not be corrupted. In any other case, your order cannot be refunded.
Publisher
: Spreadsheet1.com - Esoteric Consulting Ltd, United Kingdom
Product URL
: http://www.spreadsheet1.com/office-password-eraser.html
Software category
: Microsoft Office 2007 or later
Operating system
: Windows 7 or later
Date first published
: November 2015
Latest version: 1.2.3.0 beta

---

Additional Password Removal Add-ins